---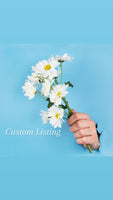 925 sterling silver bracelet with engraved heart locket.
Approx 7 inches plus 0.75 inch connector.
Heart locket approx 14mm.
Engraved with 'Dolly'
Postage and packing calculated at checkout.
 Despatch and Shipping
Items are despatched within timeframe discussed - however once shipped, delivery times are then determined by the postal service and are a guide only. Please see Shipping Policy.
Overseas via International Tracked. 
Thank you for taking the time to view Gina Kim Jewellery!
All of us treasure our jewellery and want to keep it forever special.
Care Instructions
Over time, sterling silver and other metals can tarnish (natural patina). This is not a fault with your jewellery. This oxidation process can be slowed down by taking a few precautions.
Store your jewellery in a sealed jewellery box. The boxes supplied with your jewellery have been tested by the supplier to ensure they are tarnish resistant. Always check with your supplier as some boxes and inserts contain harsh chemicals that can tarnish your jewellery very quickly.

Avoid leaving your jewellery out in the open when not being worn.   

Always avoid your jewellery coming in to contact with perfumes, hairspray and creams, as these speed up the tarnishing process. Also remove your jewellery before showering, bathing or swimming.

The recent increase in the use of hand sanitiser gel has shown that this too can tarnish your jewellery. Please ensure your hands have been dried thoroughly.

On occasions jewellery has been known to tarnish in reaction to a person's perspiration, and can sometimes discolour the skin. This is not a fault with your jewellery. Most tarnish can be

removed with a silver polishing cloth, if this is carried out frequently.
Where items contain a visible copper or brass element, I have applied a coating of Protectaclear to slow down any natural patina.


Bangles
Please note that although silver bangles have some give, to enable the putting on and removal, do not over bend. Over bending can cause the bangles to become misshapen, weaken or at worse break. Unfortunately I cannot refund bangles returned in these conditions.
Dolly Bracelet
Thank you so much once again Gina. My custom bracelet is just stunning. The locket has Dolly's name engraved on it and it opens so I can keep some of her fur inside. It's heartwarming to know she's with me all the time.